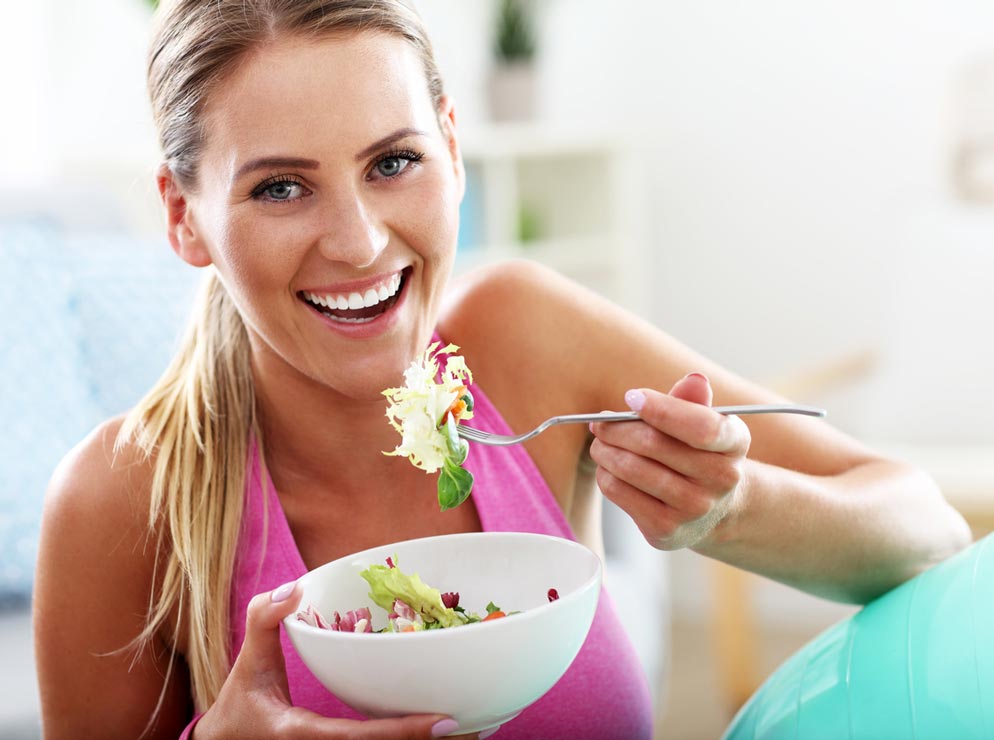 Salads are not only great, healthy meals or sides, but they're also really easy and tasty for summertime. While it's often easy to add vegetables that you like, it can sometimes be tricky to figure out how to get protein into your salads. It's important to have protein with your meals, though, and it even helps to have some with your snacks, to keep you full longer. Here are some ways for you to quickly, easily, and deliciously add protein to your summer salads.
Lean Chicken
One easy way to add protein to your salads is to roast a whole chicken on your day off and cut it into bite-sized pieces that are easy to grab and add to your salad throughout the week. You can also buy a rotisserie chicken that's all ready to go.
Chicken is delicious on many different salads, and you can use different herbs and spices when you make the chicken to vary the taste and keep it interesting.
Chia Seeds
These tiny seeds contain some protein and also a fair amount of fiber. Make a quick salad dressing with 3 tablespoons red wine vinegar, 1 tablespoon olive oil, and ½ a tablespoon to a tablespoon of chia seeds to get a little added protein on your salad without much effort. Just don't mix them in to the oil and vinegar until you're ready to eat them or they will absorb some of the liquid and become gooey.
Beans
It might sound odd to add beans to your salad, but it can be really delicious and easy, and it adds lots of protein and fiber. You can make a southwest-style salad with black beans added and salsa in place of dressing. Kidney beans or white beans are great additions, too, and they have a mild taste that won't change your salad very much. You can make a big batch of beans on the stove or in your crock pot or Instant Pot once a week or use canned beans. Just make sure to rinse them thoroughly to remove as much salt as possible if you're using canned.
Toasted Chickpeas
Chickpeas roasted in the oven until they're crunchy are great additions to salads. Dry them off, lightly coat them in olive oil, and bake them at 450°F for 30-40 minutes until crunchy. Then you can forego adding croutons to your salad, which don't add much nutrition, and instead enjoy the protein and fiber that the chickpeas have to offer. You can even season them up the way you like them. Try garlic powder or turmeric.
Hardboiled Eggs
It's easy to cook up a batch of hardboiled eggs and then cut one up and add it to your salad as you need to throughout the week. Eggs are packed with protein, and they're great on many types of salad, especially plain garden salad.
Nuts and Seeds
Adding a variety of nuts and seeds to your salads not only gives them a protein punch, but it also helps you keep the variety factor high. That's important when you're eating a lot of salads because you don't want to get tired of them.
You can try toasted almond slivers, cashews, walnuts, sunflower seeds, hemp seeds, and sesame seeds. Mix, match, and enjoy.
Sliced Turkey or Ham
Adding some deli ham or turkey to your salad is an easy way to get great flavor, quality protein, and keep your salads interesting. Just look for nitrate-free varieties and limit this option to once or twice a week, so you don't get too much salt.