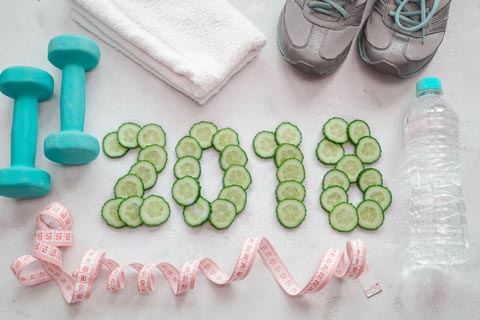 Results are in from an annual survey done of worldwide fitness trends. This year, the American College of Sports Medicine (ACSM), American Council on Exercise (ACE), National Council on Strength and Fitness (NCSF), and The Cooper Institute® were all involved in the survey (Thompson, 2017). Below are some of the exercise trends that are going to be hot in the New Year.
#1: High-Intensity Interval Training (HIIT) Is the Top Trend for 2018
High intensity interval training is back up to the #1 spot in exercise trends after dropping to #3 last year. HIIT is the practice of performing bursts of exercise at maximum intensity followed by lower intensity exercise to recover for a few moments, then going back to high intensity. The workout is preceded by a warm-up and followed by a cool-down.
#2: Group Training
Group training classes rose from #6 in 2017 to #2 in popularity for 2018. Groups of more than five people are led by an instructor in this form of exercise, and it wasn't even in the top 20 exercise trends until last year. These classes are specialized based on fitness level and don't include specialty classes like Zumba. These classes can target certain areas of the body, like abs classes. They can also be more general, like cardio or cross training, but geared to a specific skill level, like beginner, intermediate, or advanced.
#3: Wearable Technology
This fitness trend deals with wearables that track workout routines and physical parameters like heartrate, and they include such devices as Fitbits, Garmin watches, heart rate monitors, GPS trackers, and smart glasses. Wearable technology was the #1 fitness trend in 2017, so it has fallen a couple of spots, indicating that its popularity might have peaked, but it is still high on the list. With technology changing all the time, it's highly possible that it might rise again in years to come.
#4: Body Weight Training
This is another fitness trend that ranked a little higher in 2017 than 2018; it was #2 last year. This type of exercise uses a person's own weight for resistance and includes push-ups and pull-ups. Classes in body weight training can include many ingenious ways to use one's own body for enhancing exercise.
#5: Strength Training
This type of exercise focuses on using weight-lifting to burn calories, gain muscle, and improve strength. Strength training has increased its spot on the list over previous years as it's re-gaining some lost popularity.
Other Fitness Trends Popular in 2018
Other fitness trends that made it onto the survey include:
Fitness instructors achieving licensure or accreditation. Organizations that provide licenses and accreditation for fitness instructors are growing, and it is becoming more popular for people to want classes led by people with such licenses and degrees.
Yoga. Gaining in popularity this year, yoga can be used to help people gain strength and flexibility, and reduce their stress.
Personal training. This has been in the top 10 fitness trends since this yearly survey began in 2006; it continues to be a popular way for people to exercise.
Fitness programs for seniors. As the baby boomers age and retire, there is a growing popularity for programs specifically geared toward healthy, active older people. The Silver Sneakers program can help provide free or discounted access to gyms and fitness classes.
Functional fitness. This type of exercise program aims to help a person achieve better balance, coordination, and endurance that can be directly useful in their daily life.
Whether you follow the trends or buck them, be sure you have a plan in place for getting and staying active in 2018.
Works Cited
Thompson, W. R. (2017, Nov./Dec.). WORLDWIDE SURVEY OF FITNESS TRENDS FOR 2018: The CREP Edition. Retrieved from ACSM's Health and Fitness Journal.