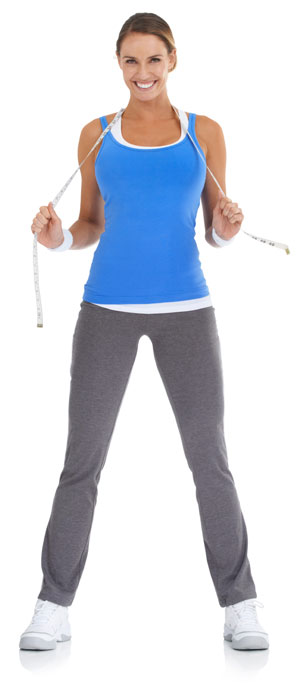 It's safe to say that many of us prefer quick and visible results. Weight loss is usually a slow and gradual process but we still tend to seek instant gratification simply in the way we measure the results. Weighing ourselves on a scale provides a numerical measurement right before our eyes but these numbers actually hide a lot from us.
Skip the scale and instead, get ahold of a tape measure. By taking occasional measurements of different parts of the body, we are finally able to pinpoint changes in the body like the disappearance of fat, lending a leaner figure. It's important to take note of the fact that muscle weights more than fat. This is especially important if you are incorporating exercise into your routine. So, if you step on a scale and seem to have not lost a pound at all, you may have just replaced a significant amount of fat with a little muscle—and those are noteworthy results. Muscle is also leaner, so by taking perimeter measurements of various body parts, we can see exactly where the body has become slimmer. Grab the tape measure, and shift your focus to embracing a healthier, more toned silhouette.
How to Take Body Measurements
In order to keep track of the success of your new diet or health routine, it is best to consistently take four different measurements. The frequency at which you take them is up to you. Weekly measurements are suggested, especially for long-term results. If you are participating in something shorter, such as a cleanse, you can either stick to before and after measurements or take daily measurements. For everyone, the most important thing is to take thorough measurements before the start of your new routine and at the conclusion. It's suggested that you designate a notebook to holding your measurements so that it is all in one safe and private place.
While wearing tight or thin clothing, hold the tape measure gently against your skin (without cinching), and measure the following:
Bust: around the upper body, including the breasts
Chest: around the rib cage, just below the bust
Waist: usually the smallest part of the upper body, above the hips and below the rib cage
Hips: around your hip bones, below your stomach and at the top of the pelvic region
Upper Arms: around each arm, about 1-2 inches below the armpit (2 separate measurements)
Upper Thighs: around each leg, about 3-5 inches below the pelvic region (2 separate measurements)
If you are participating in rigorous exercise, the upper arm and thigh measurements will help show more detailed results. However, you don't have to take these two measurements every session since they will likely show much more gradual results. The most important are the first four: bust, chest, waist and hips. At the end of your healthy adventure, compare the before and after sets and ask yourself:
What kinds of changes has your body experienced?
Have you changed dress sizes?
Is any part of your body especially slimmer?
How has your silhouette changed overall?
Additional Tips and Tricks
Incorporate photos into your result tracking. Take pictures with a camera or phone at the beginning and end, capturing front, side and back views in minimal clothing. A sports bra or tank top with spandex or running shorts will help provide the visual results you crave.
Take advantage of technology by downloading a helpful application on your smartphone. Here are a couple of our favorites:
MyFitnessPal: This detailed app allows you to track much more than just your measurements and weight! You can also set goals, record your diet and exercise, receive feedback and support, and take part in public forums where you can chat with people experiencing the same challenges and successes. Plus, you can create a profile and view your results from any device connected to the internet. The best part—it's free!
A+ Weight Manager: This is a much more basic app but allows you to do what is most important: record your weight and measurements, then view the data in a graph or list. You can also protect the information with a password, which is great when you want to keep your information private.