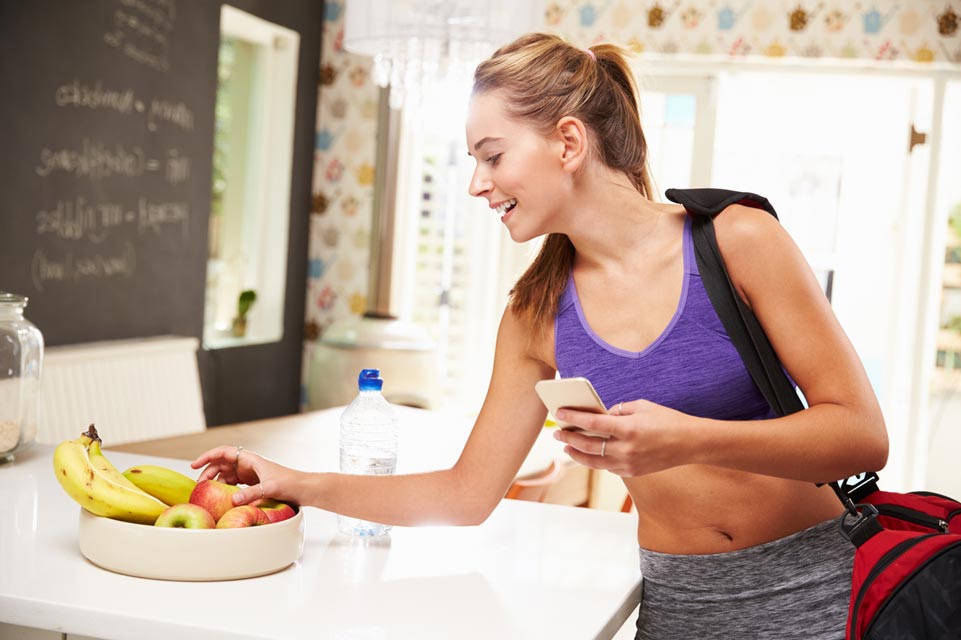 You have the best intentions of staying within the calorie range you've set yourself for the day. Everything is going well: you're drinking your water, got your exercise done, and are feeling good. Then it hits you.
A craving.
Maybe it's for a sweet treat, a salty appetizer, or some calorie-laden comfort food. Whatever it wants you to eat, a craving is a thought-consuming monster that wants to push you off your healthy eating track.
How can you deal with cravings in a way that lets you stay on course but knocks that monster off your back and out of your thoughts? Take a look at these useful ways to curb cravings.
Drink Water First
It can be easy to mistake thirst for hunger, but even if you're not necessarily feeling hungry, dehydration has been found to specifically feel like a sugar craving to some people. If you drink a glass of water when you're feeling a craving, you might chase it away right there, and you'll have all the added benefits of drinking enough water added to your day too.
Move to a Different Environment and Activity
When you start feeling a craving for something you'd rather not eat, change your scenery and start a new activity. Leave your office and go for a brisk walk around the building. Move from the living room couch to a different part of the house and do a little cleaning. Turn on the radio and dance a bit. Do whatever it takes to break your mind's focus off the craving and redirect it onto something else.
Take a Garcinia Cambogia Supplement
The active ingredient in a Garcinia camgogia supplement is hydroxycitric acid, HCA. It increases serotonin in the brain, which helps fight emotionally based cravings. Talk to your doctor before starting a Garcinia cambogia supplement, and don't use one if you're diabetic or on other medications, especially those for high cholesterol.
Taking a Garcinia cambogia supplement has additional benefits beyond decreasing cravings. It also decreases cortisol levels in the body, which helps fight belly fat. It helps block the absorption of fat in the foods you eat, and it doesn't contain stimulants or result in jitteriness.
Get Plenty of Sleep
Lack of sleep increases cravings and results in overeating (Markwald RR1, 2013). People who don't sleep well usually eat more calories during the following day and those calories often include more carbohydrates and sugars. Getting a proper night's sleep can decrease your cravings and help you stay on track with your healthy eating plan.
You can improve your sleep by:
Creating a regular bedtime and rising time.
Avoiding digital screens, alcohol, and sugar for an hour or two before bedtime.
Keeping your bedroom cool, dark, and technology free.
Following a relaxing bedtime ritual, like a warm bath, soothing music, and gentle stretching.
Eat Mindfully and Follow a Plan
When you know what your eating plan is for the day, down to each snack and meal, you will be less likely to indulge in a craving. You can simply grab the next thing on your plan and eat it, which often squashes that craving.
When you do eat your snacks and meals, do so mindfully. As much as possible, avoid eating on the run or in front of the television or phone. Focus on your meal preparation and on eating, giving your full attention to the flavors, texture, and enjoyment of the food. Doing so will help decrease emotionally based cravings because your brain will be focused on the food you're eating and the signals from your body letting it know you're full and satisfied.
Control Your Stress
Stress can easily lead to cravings. These emotionally based urges to eat food that isn't on your healthy eating plan can be powerful and difficult to resist. The more you can decrease your stress levels, the less you will experience those cravings. As discussed above, a Garcinia cambogia supplement can help many people with this. Additionally, creating a stress relief program for yourself can decrease your cortisol and increase your serotonin, lowering your cravings. Here are some things to consider including in your plan:
Make Sure You're Getting Plenty of Protein
Protein is digested slowly by your body, keeping you full longer and helping to reduce cravings. Try to get a good amount of protein at breakfast and include some in each snack and meal throughout your day. This will help decrease the number of cravings you get and also help you resist one when it occurs: eat a protein-laden snack and you'll probably find that the craving recedes.
References
Markwald RR1, M. E. (2013, April 2). Impact of insufficient sleep on total daily energy expenditure, food intake, and weight gain. Retrieved from pubmed.gov: DOI: 10.1073/pnas.1216951110.