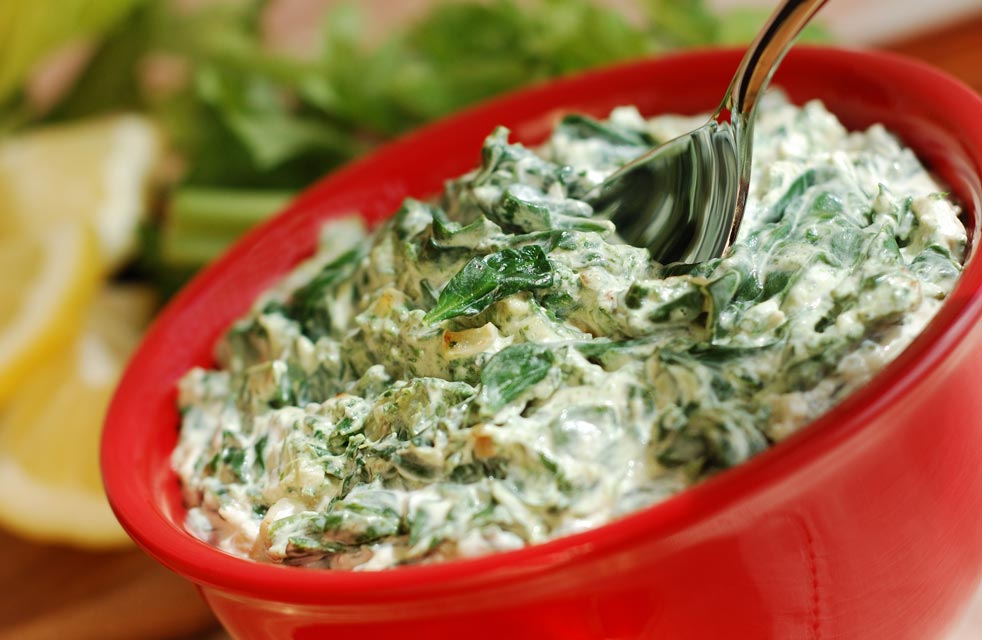 If you're sick, try harnessing the healing powers of raw garlic and turmeric to boost your immune system and help you get better faster. You can also have it daily to help keep your immune system strong and potentially decrease your chance of getting sick in the first place.
Be sure to rest the garlic for 15 minutes after you mince or press it to produce maximum positive effects.
Serves: 4-6
Prep Time:
Cook Time:
Ingredients:
2 cups nonfat, plain Greek yogurt

1 cup fat-free cream cheese, softened

1/2 teaspoon salt, optional

1.5 cup grated parmesan cheese

1 teaspoon garlic powder or 2 garlic cloves, crushed and rested

1 14-ounce can artichoke hearts in water, drained and chopped*

1 10-ounce package frozen spinach, thawed and drained, with excess water pressed out

2 cups reduced fat mozzarella cheese, shredded
Directions:
Preheat oven to 375° F.
Whisk yogurt and cream cheese together until smooth.
Add salt, parmesan, and garlic and stir together.
Add artichokes, spinach, and mozzarella, and stir together.
Spread into oven-safe pan, and bake until just beginning to brown and bubble.
Serve warm with pita chips or vegetables to dip.
*You can also cook your own artichoke and use it to make the dip, which will reduce the sodium content and make it healthier. Learn how in the artichoke section here: "Lemons and Artichokes: Underused Superfoods."
You May Also Like These Articles:
How to Tell if Your Hunger Is Real
Best Proteins to Add to Your Summer Salads
Oldies but Goodies: Weight Loss Advice That Stands the Test of Time
Trouble-Shooting a Weight Loss Plateau