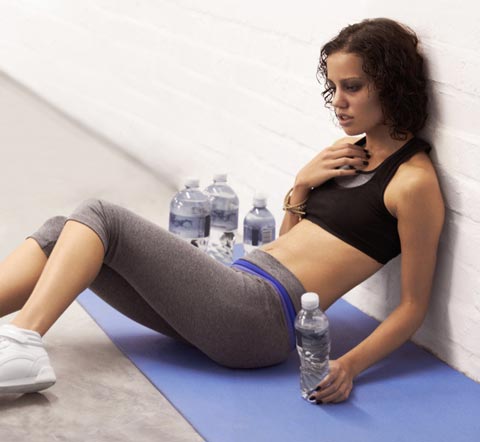 Not even 50% of the population gets what is considered to be "enough" exercise, so this isn't a concern for many people. However, if you are embarking on a new health and fitness program or are ramping up what you are already doing, you should find out beforehand how much might be too much.
Moderate Exercise Might Be Best
Several recent studies have indicated that people who do moderate amounts of exercise are at a decreased risk of dying than those who exercise strenuously every day and those who are sedentary. One particular study looked at jogging and risk of death from all causes, finding that people who jogged moderately were at lower risk of death than those who were sedentary, but people who jogged strenuously had similar death rates as sedentary people (Schnohr P, 2015).
These studies have been observational only, so they indicate correlation, not causation between exercise and death. In other words, the results might mean that there is some other thing about strenuous exercisers that makes them more likely to suffer from heart problems. Perhaps they are more likely to have Type A personality traits that increase their risk for heart conditions and other illnesses, for instance.
Still, there is an increased risk of injury from doing strenuous exercise daily over doing moderate exercise four or five times a week, and there could be negative impacts on the immune system, too. Taking a break to rest your body is probably a great idea.
Before starting or changing any exercise program, check with your doctor to determine if it's safe for you.
Signs You Might Be Exercising Too Much
If you have been increasing the intensity of your workouts and not decreasing their frequency, you might be overdoing it. Here are some signs that could point toward over-exercising:
Exhaustion
Frequent illnesses
Extreme muscle soreness
Sleep disturbances
A good rule of thumb is to stick to three times a week or so for high-intensity workouts. Of course, it's best to consult with your doctor to determine the best exercise choices for you as an individual based on your life stage, lifestyle, and any concurrent medical conditions.
Works Cited
Schnohr P, O. J. (2015, Feb. 10). Dose of jogging and long-term mortality: the Copenhagen City Heart Study. Retrieved from pubmed.gov: DOI: 10.1016/j.jacc.2014.11.023.