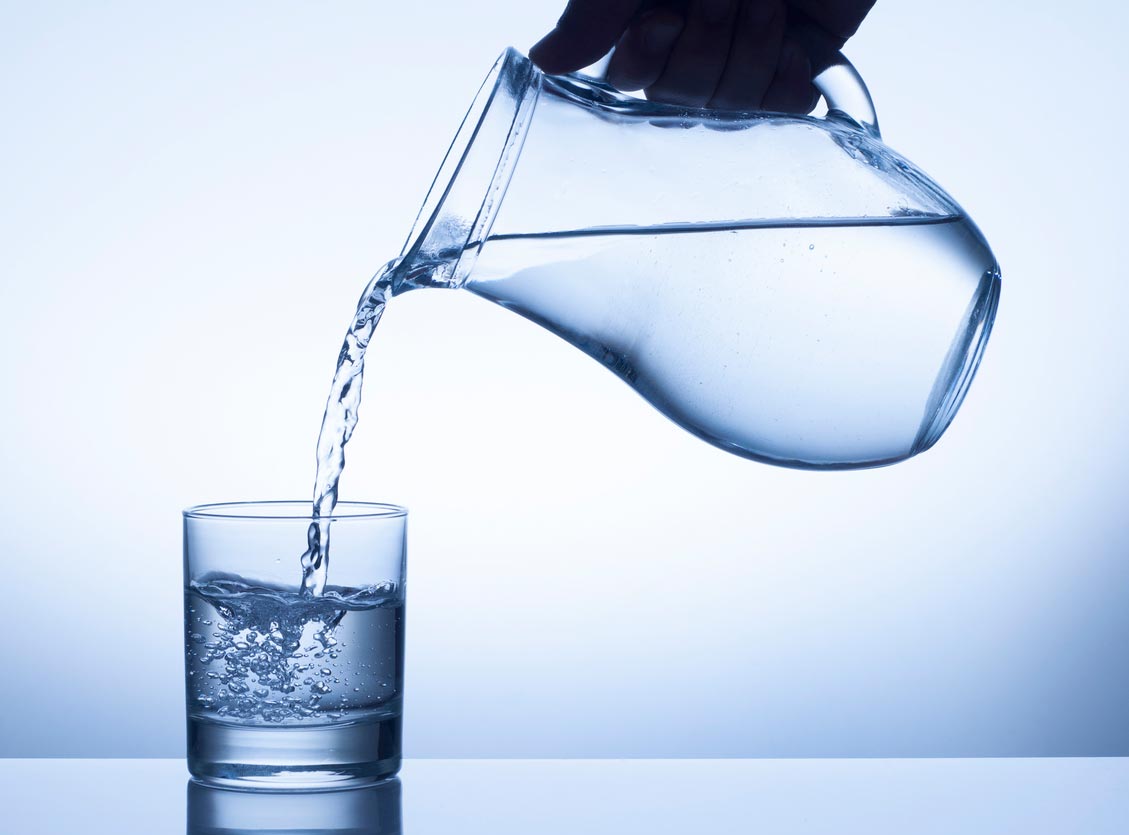 Over and over, we're told to drink plenty of water every day. It can be difficult to kick down 64 ounces of water within the 16 or so hours we're awake. Especially if you're new to consuming such a large amount of pure water, the task can be fairly challenging—even daunting for some. Thankfully, we've pulled together a list of tips and tricks to help you out. Soon enough, you'll be soaring right past 64 ounces without a problem.
Mark a bottle. If you feel like you live on-the-go, this is a great tip for you. Find a good water bottle that holds a hefty amount of liquid. Make sure it easy to carry around. Wash and fill it every night before bed then put it in the fridge. When you awake, your water is chilled and ready, much like bottled water at the gas station, except this is much cheaper and more convenient. Take it with you everywhere you go. If you can find a bottle that holds 16 or 32 ounces of water, it will be easy to remember that you should drink either 2 or 4 full bottles each day, respectively. To make this strategy even more effective, mark up the bottle. Using a permanent marker, make indications to show where the surface level of your water should be throughout the day. For example, you might draw a line ½ way down and label it '11:00AM' to remind yourself that by 11 o'clock each day, you should have finished at least the water above that line, which might equal about 20 ounces. Make as many indications as you need. This little trick will keep you on track so you don't find yourself trying to chug 40 ounces of water in the last hour of your day. Plus, it's best to stay consistently hydrated versus having big bursts of hydration with dry spells in between.
Remind yourself. If you dislike lugging around a water bottle or spend most of your time in one place, visual cues might be just enough to keep you on schedule with your water consumption. Magnets are a cheap and easy way to show your progress. Craft stores often sell packs of basic magnets; choose one that comes with 8 and stick them on the fridge or you can use letter magnets for motivational messages. You can even split them between work and home, adding four to your file cabinet. Take it one cup at a time—each time you finish an 8-ounce glass of water, move a magnet to the opposite side. Now it's right in front of your eyes and hard to deny.
Filter it. Maybe it's not the amount that is causing you issues but the taste. If the water from your faucet just doesn't do it for you, look into purchasing a filter. Not only will this help dull the funky flavor but it can also help to remove harmful contaminants. For health purposes, city water must be regulated. However, the legal levels of contaminants are frequently higher than what is suggested by health agencies. You can help combat this and protect your health by using a purifier that attaches directly to your faucet. Or, if you don't want to deal with the extra bulk, you can purchase a filtered pitcher or water bottle.
Flavor it. Maybe you're one of those people that hate the lack of flavor associated with water. Luckily, there are endless ways you can add a healthy dose of excitement to your H2O. A squeeze of citrus or even slices of fresh fruit are both light and delicious ways to perk it up. If you prep a pitcher of infused water and let it rest in the refrigerator overnight, you'll wake to a tasty beverage low in calories without any artificial preservatives or unhealthy sweeteners. Try adding fresh mint leaves with berries, basil with lemon, or sliced cucumber and kiwi. You can even purchase water containers with built-in infusers to hold fruit and herbs, allowing them to release flavor throughout the day without bumping your lips as you sip. For a little extra sweetness, use something natural like stevia, honey or agave instead of granulated sugar or high fructose corn syrup, like you find in many sodas and juices. Are you a smoothie guy or gal? Instead of starting your smoothie with a juice made from concentrate, pour 8-16oz of purified water or coconut water into your blender, followed by your favorite fresh fruit and greens. You'll end up with a well-blended, drinkable smoothie that no longer requires a straw.
Put snacks on hold. If you're feeling hungry shortly after a meal, chances are you're actually just dehydrated. Kick back a full glass of water before reaching for your next snack. You might not need it after all. If you really want to put the water to work, drink a full glass before each meal. The space taken up by the water in your stomach will help you feel fuller, faster so you don't overeat. Continue drinking water steadily throughout your day to help ward off cravings and keep your appetite under control.