Buy Now
Saffron is an ancient spice that has been revered for thousands of years not only for its flavor, but also for its amazing health benefits. Recently this all natural supplement has become popular for its weight loss benefits and mood enhancing properties.
Saffron Satiereal® Helps Support:
Appetite suppression
Decreased emotional eating and cravings
Improved mood
Decreased snacking
Increased serotonin levels
Healthy weight loss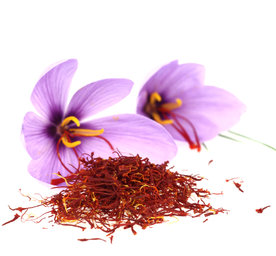 How Does Saffron Extract Work?
Increases serotonin levels–Improves mood and decreases emotional eating
Saffron works to support healthy serotonin levels. Serotonin is a hormone and neurotransmitter that regulates many different functions, but probably most well known is its capacity to improve mood, reduce anxiety and stress and fight depression.
Because saffron improves mood it can also help to reduce emotional eating, snacking and cravings, especially for unhealthy high-sugar and high-fat foods. By reducing the amount of calories consumed, healthy weight loss can ensue.
Decreases cortisol levels
Saffron extract helps to decrease the stress hormone cortisol. This hormone not only slows down weight loss but also contributes to stubborn belly fat.
Increases satiety
Saffron extract helps to make you feel fuller and more satisfied with your meal and thus decreases snacking between meals, yet it doesn't take away from the enjoyment of eating.
---
Does Saffron Extract Really Work? Are There any Studies?
Yes, and it is important to note that the studies were done on Satiereal® saffron extract.
From http://www.ncbi.nlm.nih.gov/pubmed/20579522:
"Satiereal, a Crocus sativus L extract, reduces snacking and increases satiety in a randomized placebo-controlled study of mildly overweight, healthy women

Our results indicate that Satiereal consumption produces a reduction of snacking and creates a satiating effect that could contribute to body weight loss. The combination of an adequate diet with Satiereal supplementation might help subjects engaged in a weight loss program in achieving their objective."
Why is it called "A Miracle Appetite Suppressant"?
Dr Oz featured Satiereal saffron extract on one of his shows and called it "The New Miracle Appetite Suppressant to Kill Your Hunger."
This started quite a craze and supplement manufacturers ramped up their production of this sought after product. But some manufacturers started to promote inferior products making claims of purity and high concentrations--but failed to utilize the ingredient proven to work, which is Satiereal® extract.
---
What to Look for in Saffron Extract.
Most important–make sure it is Satiereal® Saffron Extract at 88.50 mg per capsule.
Non-GMO
Purity:

No fillers
No binders
No artificial ingredients

Manufactured in a facility that is:

FDA Registered
GMP Certified (Good Manufacturing Practice)

Made in the USA
The Health Company® - A Name You Can Trust.
The Health Company® has a Pure Satiereal® Saffron Extract that meets all the criteria to provide you a safe, effective product that produces real results.
The Health Company's Saffron contains 88.50 mg pure Satiereal Saffron Extract. Non GMO and standardized to ensure you receive the correct formula.
---
Watch out for:
False claims, unsupported facts and promises of exaggerated weight loss.

Remember--no one product is going to be a miracle cure, but adding the right supplement to your weight loss program can significantly help you lose weight easily without hunger and stress. Don't be fooled by unbelievable claims of weight loss--that is usually what they are, unbelievable.

Products stating they are endorsed by Dr Oz.

Websites and products showing Dr Oz's picture and claiming he is endorsing the product are pulling a scam. Dr Oz does not endorse any specific brand and is fed up with people suing his name and picture to sell their products. If you see Dr. Oz's picture on a site--consider it might be a scam.

Products with high mg concentrations of saffron.

For example, if a product states it has 200 mg saffron per bottle, check the back label. If it doesn't say Satiereal®, it isn't the right product. Satiereal extract comes in 88.50 mg per capsule. That is what you want.

Overpriced products.

You might want to consider why some sites offer you, for example, six bottles for a lower per bottle price than one bottle. It is because they want to make a big sale right off the bat. And they often have inferior product.

Free Trials and auto ship programs.

They are designed to take your money.